This isn't the first time we've waxed lyrical about Elmore Court's exciting developments in sustainability, and let's be honest, it probably won't be the last.
You may remember we caught up with Team E back in the new year where they filled us in on their rewilding plans for 2022. Well folks, it's fair to say they're going rather swimmingly and we're delighted to be welcoming them back today in the first installment of a new series tied in with our  'Home Tours'. We'll be covering everything you need to know about their brand new guest accommodation, the treehouses.
We've lost many an hour scrolling on Canopy & Stars (oh, you too? Thought as much!), so we reckon Elmore's newest additions will be right up your strasse. Expect rambling woodlands, outdoor bathing and a deep connection with nature. Don't just take it from us though, it's time to hand over to Team E for all the dreamy details…
TELL US ABOUT THE HISTORY AND STORY OF elmore court?
Back in 1262 a lovely slice of England was granted by the court of Henry III to a Knight called Anselm Gyse. In return he had to pay a rent of one clove of Gillyflower. The land being gentle hills and wetlands alongside the River Severn in Gloucestershire. At that time the region was a hive of activity with the river being the only access for boats from the English Channel to the important medieval city of Gloucester just a couple of miles to the north.
The wetlands and surrounding land had been a focus of attention since before Roman times. The area was known for the abundance of eels which at the time were eaten more than all other marine and freshwater fish combined. The name Elmore derives from the area, The Moor of Eels. 
Since then, clearly, lots has happened. A fabulous house was built and though modernised and changed a great deal over the years it still has the original cellars from all the way back then. The land has been drained and flood defences built alongside the river and for many years has been farmed, much like all land in England. And like most of England the relationship between land and those working that land has been one of asking her to provide food, sport and, at the end of the day, money for us without much thought as to what impact we are having on the complex and beautiful natural systems that inhabit that space. Unfortunately the eels have almost completely disappeared at Elmore. 
HOW HAS THE WEDDING SIDE OF elmore court GROWN OVER THE YEARS?
Elmore Court and what was left of the estate (chunks having been lost or sold over the centuries) was inherited by Anselm Guise in 2007. Anselm, being a DJ and festival organiser, after a few years of figuring stuff out and having fun, got to work making the house and its grounds into a proper party venue underpinned by an ethos of sustainability; with decisions being guided with an awareness of their environmental impact. The so called 'Gillyflower' to the north of the house being built using mud and earth from the adjacent field as well as timber from the estate's woodlands. It is a sound proofed beauty of a building designed for pure merriment! 
Elmore Court opened in 2013 and has gone from strength to strength in terms of its offering. More bedrooms, the addition of a 'bridal prep pad', the Coach House, better and bigger kitchens, walled garden veg production with a big, bold new greenhouse, wild swimming offerings and an exciting and important return of the land to its natural state. All of this has been possible thanks to the continued success of the wedding side of our business and for that, we are hugely grateful!
rewilding the land
After a rather drawn-out process of waiting for fields and woodlands to come back 'in-hand' from tenant farmers and things like a pheasant shoot, 250 acres of previously agricultural land had traditional farming activities stopped in late 2020. A so-called process of 'Rewilding' began, and the landscape has already transformed with an uplift in the abundance of fauna and flora so wonderfully apparent.
Why did you choose treehouses?
The idea of a treehouse is simple, rustic and for many, takes them back to childhood shenanigans with friends and siblings. A love of cabins, being in the woods and climbing trees has driven a desire to build treehouses at Elmore. That's always been there, but now that there is this stunning wild landscape with all its tales and stories, animals and birds, the time has come to create a private, exclusive space for guests to connect with nature and some of what we have forgotten. 
"We wanted to make a space that was in style juxtaposed against the organic flow of the woodlands. There's something awesome about clean edges sitting amongst the wildness of stuff." – Anselm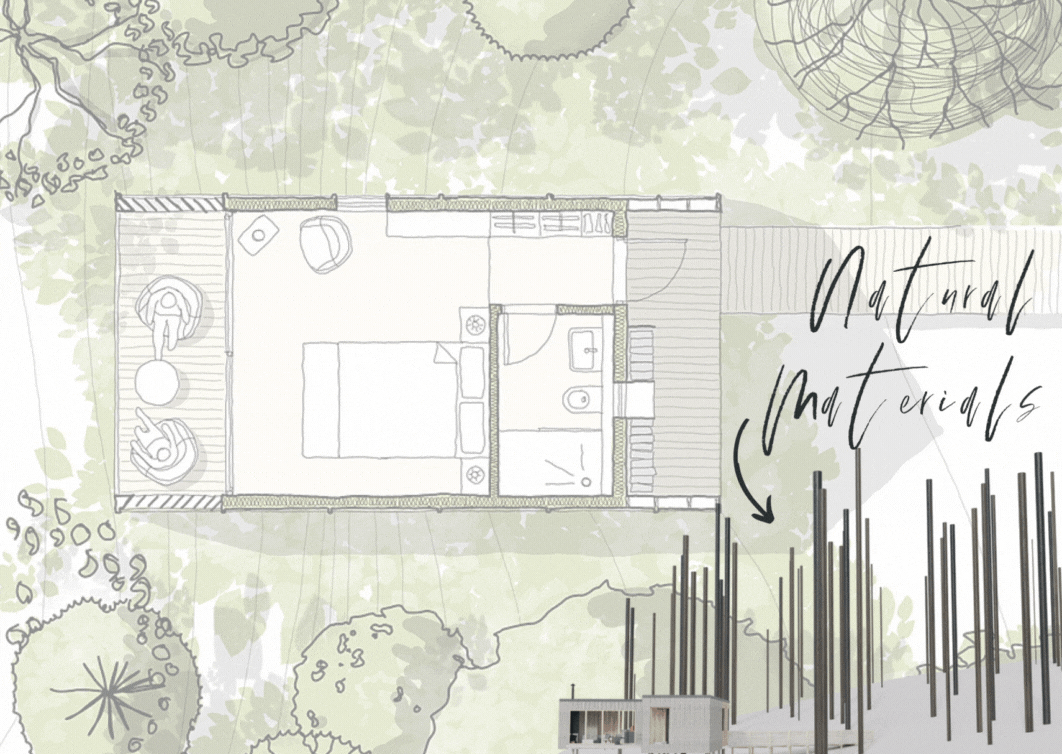 WHAT ARE THE PLANS FOR THE treehouses?
We've been working with local architects Millar + Howard (who also designed the Gillyflower). Together our ideas and inspiration, taken from books and websites, formed into a series of bespoke and exciting designs. The idea is to have a stylish, comfortable and insulated living space (with lots of glass!), a fire-bowled deck outside and, so as to encourage elemental engagement, a sheltered yet essentially outside area with a hot bath and a totally awesome outside kitchen.  
The six cabins will be nestled on stilts within the woodland, raised off the ground as if you were part of the canopy of the trees. Built in such a way there is minimal disturbance to the woodlands and when done will connect guests with nature while providing fantastic views over the 'meadows'; a lowland area of land we are returning to rich, diverse wetland with all that will bring. 
Our unique new guest accommodation will operate alongside the events business. They will be available to hire for all future wedding bookings, either for guests or the wedding couple themselves.  There may be opportunities throughout the year where non-wedding guests will be able to stay but they will only become available to the public after a certain point before an event.
How would you love couples to use this new space?
We would absolutely love for couples to spend some time together in the treehouses after their wedding. In fact, a stay in one of our cabins would be a perfect early honeymoon for them. A wonderful opportunity for them to wind down after the big day, connect with each other as married folks and set forth into their new lives with an awareness of the importance of nature.
HOW CAN WE KEEP UP TO DATE WITH THE project?
We're documenting the progress of the build on Instagram and if anyone wants to follow along with us, they can follow us on @rewildthings. We'll also be posting updates on the journal on our website and you can also sign up to our newsletter there too. Watch this space!