If you've just started researching weddings hoping to find a spark of inspiration for your own big day, then you've no doubt come across the word 'Greenery'. Highlighted as Pantone's Colour of the Year for 2017 it's a colour that's set to be big for the year ahead, in fact we were crushing on this particular hue in our 2017 Wedding Trend Report just a few weeks ago.
However, on first glance, this colour might seem a little bit daunting and a whole lot of bright. Well, to tone everything down a little and to show you how to incorporate this colour in your wedding day flowers and décor we have one of our fave florists on hand to help.
Over to the wonderful Joanne Truby Floral Design…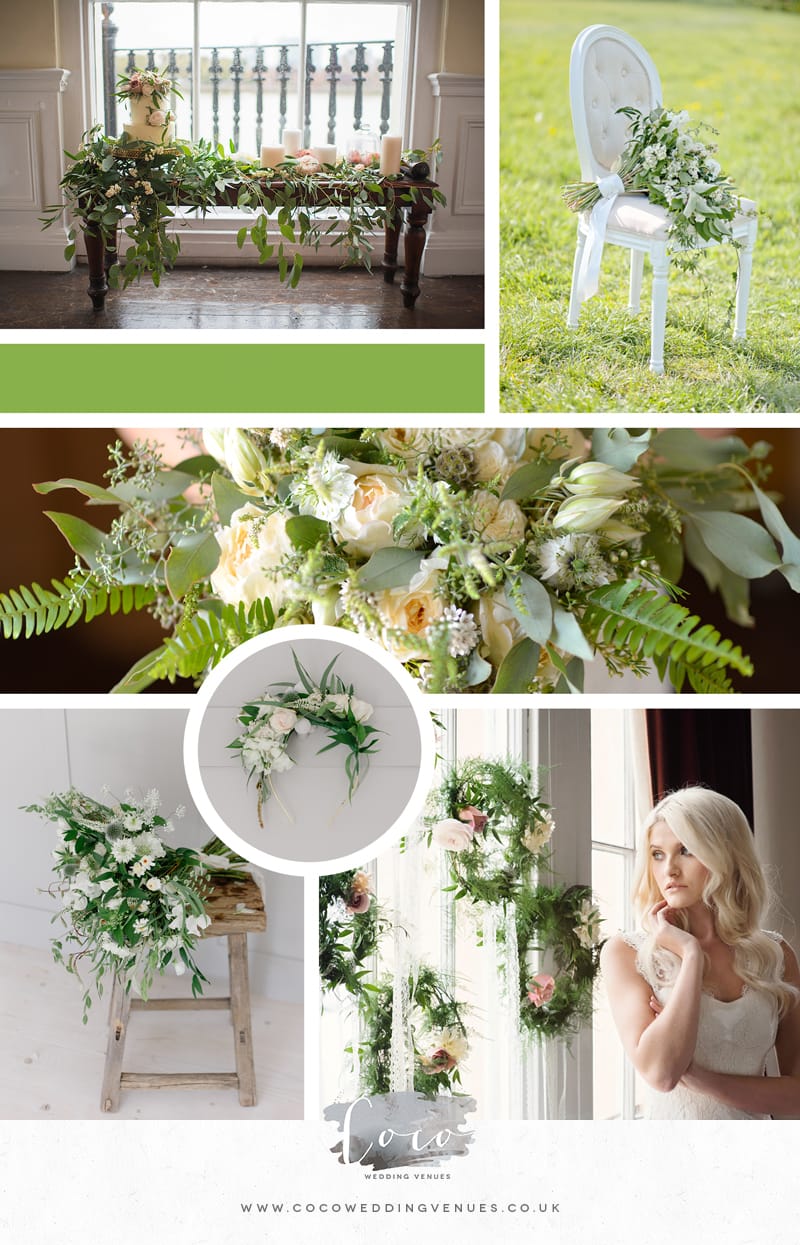 Joanne:
Each year we eagerly anticipate news from Pantone announcing their 'colour of the year' for the year ahead. Always guaranteed to filter through to fashion and home interiors the colour also plays a pivotal role in shaping the wedding trends for the year to come.
Last years dual combination Rose Quartz and Serenity got us all awash with pastels but this years bright injection of Greenery makes a beautiful bright contrast which can be incorporated into so many aspects of your big day. A refreshing and revitalising shade, Greenery is symbolic of new beginnings – what could be more suited to the day that marks the beginning of the rest of your life!
Here we share a few ideas as to how you can incorporate the colour scheme into your big day from subtle touches to all out wow factor floral displays;
Opt for foliage heavy designs with minimal or no flowers. You can create interest by adding a mix of seasonal varieties as opposed to having just one variety.
Incorporate ferns for a more boho inspired feel to your wedding day décor or Olive and Eucalyptus if you're looking for a more paired back natural and organic feel, inspired by the Scandinavian/Hygge trend which is currently very popular.
For a more understated elegance to your big day natural foliage runners are stunning for long banquet style tables. Pair with candles for a cosy and romantic ambiance.
Foliage can add a wow factor to your reception décor, particularly in a marquee as they offer a blank canvas which means they are versatile to lots of different options. You could have a hanging foliage backdrop behind your top table or you might want to opt for a hanging chandelier or even a foliage arch for your ceremony.
If you're keen on an organic, understated style for your big day blooms then pair your foliage designs with white or neutral toned flowers. The contrast between the green and the white lends itself to an earthy real feel.
Herbs are another great way of incorporating Greenery into your scheme, you could choose to include sprigs of rosemary within your button hole designs, on your cake or even as place name settings.
If you're thinking of having a trailing bridal bouquet, then Jasmine foliage is perfect or if you're getting married in the Autumn or Winter months then Asparagus Fern also has a beautiful natural trail but is richer in colour so lends itself more to this time of the year.
We hope that's given you lots of gorgeous ideas – it's not so daunting after all is it!
If you'd like to chat to Joanne about all things floral for your own big day then you can find her at www.joannetruby.co.uk or you can see Joanne's work and behind-the-scenes life on her Instagram.
Lots of love…