I love the City.
Any City.
The pace, the vibe, the action, the people… It's electric being a part of a metropolis.
My previous career saw me running around London doings lots of fashiony things and I loved the day-to-day buzz of being in this hub.
So for me, City Chic is up there with my favourite wedding styles, because it's all just so darn cool.
This city wedding style is all about industrial chic, killer heels, skinny suits, signature cocktails and dancing until dawn…
Let's jump right in shall we…?
the vibe
Think clean contemporary lines mixed with industrial grit and you're pretty much summing up my take on City Chic.
I love couples that find cool, unique and unused spaces and then turn them into something beautiful for their wedding. Gaze upon the images below and you can see the overall vibe I'm going for… Bare brick and metal, concrete flooring, perspex furniture and warm vintage lightbulbs.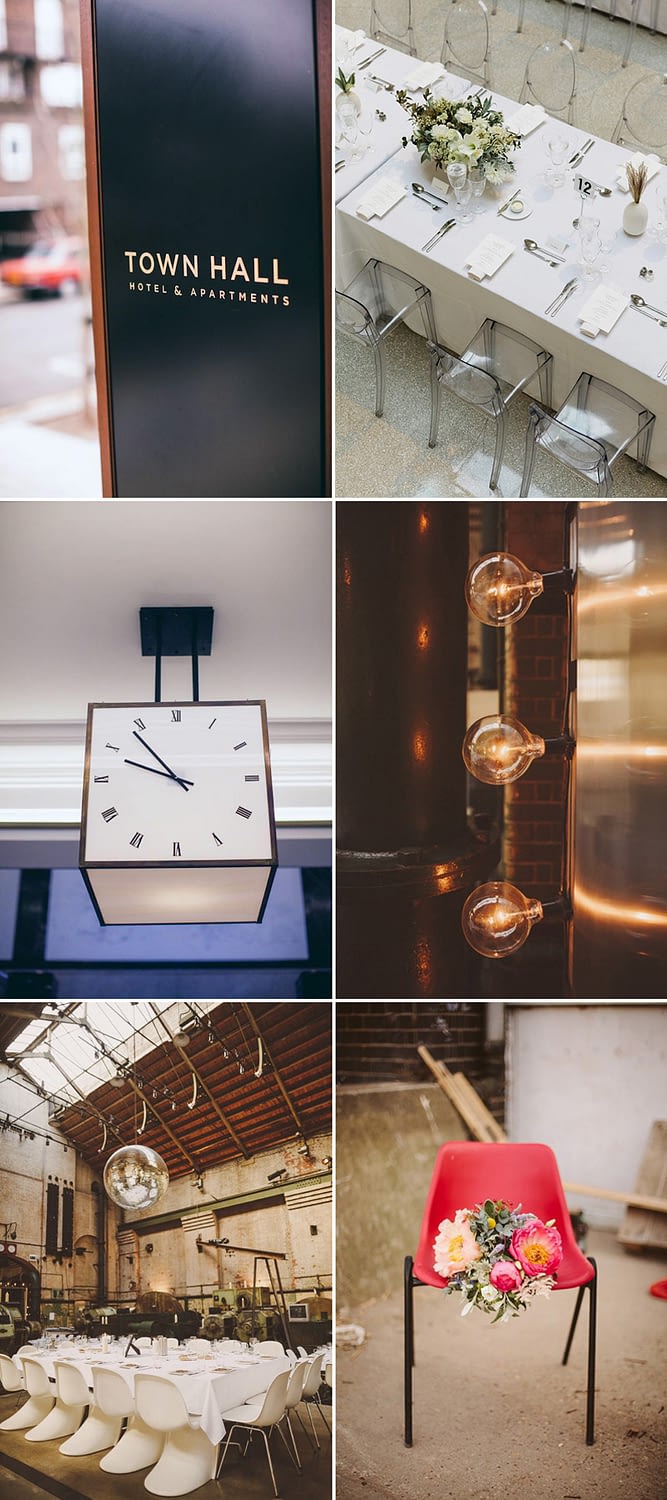 Top Row Left: Image via Chris Barber. Top Row Right: Image via Nicole Franzen. Middle Row Left: Image via Chris Barber. Middle Row Right: Image via Ed Peers. Bottom Row Left: Image via Ed Peers. Bottom Row Right: Image via Tom Ravenshear.
How gorgeous is that bright red plastic chair juxtaposed with the sumptuous bouquet perched upon it…? And that glitter ball above the dinner tables…? I know, I know, it's all to much isn't it.
Until we reach the fashion that is…
bride in the city
I love the bridal fashion for City Chic… The world really is your oyster with this wedding style.
From golden gowns to simplistic silks with a modern vintage twist. Or how about a tulle skirt in a '50s silhouette, maybe even something a little more structured and edgy like this gorgeous lace number with a sheer skirt layer. Either way this style is all about being individual and ridiculously cool.
Jewellery, headpieces and veils should be kept simple but bold – a golden cuff, a drop earring or a stunning statement necklace.

Top Row Left: Image via Tom Ravenshear. Top Row Right: Image via Dasha Caffrey. Middle Row: Image via Emma Case. Bottom Row: Image via Kate Ehrenberg.
As beautiful as the above ladies are, maybe… Just maybe, you don't want to look like a Bride.
So let's go full on fashionista.
Hell, yes!
Check out these very cool alternative looks for a City wedding from full length to short and sweet. Oh and I've included some metallic accessory action in the form of this epic clutch – yes, you are welcome.

Top Row Left: Image via Vogue. Top Row Right: Image via Pinterest. Second Row: Image via Fashion Vibe. Third Row Left: Image via Pinterest. Third Row Right: Image via Pinterest. Fourth Row: Image via The Blonde Salad. Fifth Row Left: Image via . Fifth Row Right: Image via . 

Would you dare to be so bold and shun the traditional take on the Bride…? Would you even consider wearing black, which let's face it, is the ultimate in chic and so flipping flattering!
Whatever your personal taste you are bound to find something within this boundary-pushing wedding style.
killer heels
At some point I was going to talk shoes… Now whilst I'm not particularly graceful on a pair of skyscrapers (I blame my teeny tiny feet. I fall over. A lot.) it doesn't mean I don't lust after a pair of killer heels.
I quickly realised that for my own bridal ensemble I needed something a little bit special.
I needed the Choos.
It was only when I surreptitiously tried them on in a packed Selfridges with my flustered then-fiancé that the world stopped. For us both. I kid you not.
Shoes are incredible, can transform your attitude and absolutely make the outfit. So you just need to invest in a pair of to-die-for-heels if you are a City Chic Bride.
This wedding style demands it!
Top Row Left: Image via Stacy Able for Style Me Pretty. Top Row Right: Image via Braedon Photography. Second Row: Image via Nicola Thompson. Third Row Left: Image via Kurt Boomer Photography. Third Row Right: Image via Sara Norrehed. Bottom Row: Image via Tom Ravenshear.
Which of the above have caught your eye?
Putting aside my beloved champagne Choos for a minute, even though they look gorgeous against those dark blue tiles, if I was to choose all over again it would have to be the Valentino Studded Pumps. But if you can't quite justify spending £600 on your wedding shoes (*gulp*) then check out Russell & Bromley who do a very, very close-second…
the details in the decor
Weddings – a time of warmth, family, friends and laughter. With this in mind I think it's important we touch upon wedding decor for this style as it could all become a little bit cold and impersonal, don't you think?
If you are going for an industrial vibe to your City Chic wedding then lighting is so important. Whether it's tea lights on the tables, strings of cafe bulbs overhead or even lighting of epic proportions such as these amazing carnival letters made in the initials of the Bride and Groom – all add to the ambience of your city do.
Aisle Style is a fave topic of mine and I'm smitten with the image below with swathes of fabrics and ribbons softening the surrounding bare brick and polished concrete.
Top Row Left: Image via Chris Barber. Top Row Right: Image via Kate Ignatowski. Second Row: Image via Amy Carroll Photography. Third Row: Image via Amanda Watson. Bottom Row: Image via Dale Weeks.
The softest, pillowy blooms of roses and ranunculus can set a much needed romantic tone, however I love how the above florals are offset in square metallic containers.
Pops of colour can add a touch of frivolity to the gritty surroundings – think paper pom poms and tassels for pretty textures.
I'm particularly in the love with the last image – colour and lighting combined – this is a shot from our very own The Bell in Ticehurst. Not strictly a City Chic venue but it certainly has an edge and I just had to include it!
portrait
Couples portraits.
It's got to be done.
This was actually one of my favourite parts of the day, just me and my newly acquired husband hanging out together taking in the scenery of our own wedding whilst everyone else was off enjoying a Pimms or three.
I haven't written about this element of the wedding day before but I feel compelled to now… Because look. Just look.

Top Row Left: Image via Jenny Jimenez. Top Row Right: Image via Claire Penn. Second Row: Image via This Modern Love. Third Row: Image via Robbins Photographic. Bottom Row Left: Image via Adagion Studio. Bottom Row Right: Image via Emma Case.
Now whilst I do love a pretty garden or a magical woodland or even a stunning sunset as a backdrop to a wedding, I can't help but think the above images are beautiful.
When you are a City Chic Bride and Groom you can have the most amazing couple shots if you just take a little walk around your venues locale.
I fell in love with one of Coco's very own venues because of their infamous blue door backdrop – yes, I'm taking about Fazeley Studios.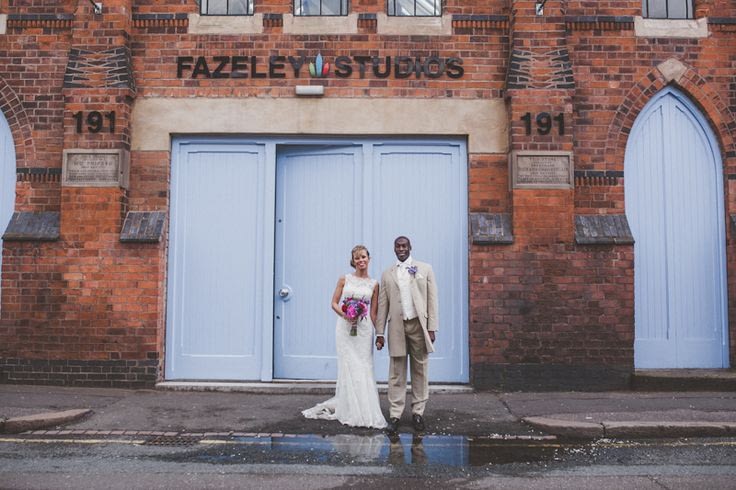 Image via Jordanna Marston.
So are you a City Chic Bride and Groom?
Have you found your perfect City venue?
What's your favourite wedding style so far…? Bohemian Beats, Coastal Cool or this… City Chic. But as Cilla used to say, don't make up your mind just yet…
There are still three more Coco Style Categories to show you folks…
If you want me I'll be dusting off the Choos…
Lots of love…