I always envisaged being a Bohemian Beats Bride… But somehow I ended up in the Rustic Glam camp and altogether more traditional… But that's another story for another day…
Introducing the first of our Coco Wedding Style Categories… My beloved Bohemian Beats.
Come on let's take a look…
the vibe
For me the Bohemian Beats is deeply, darkly romantic and the passion echoes like thunder on a stormy night.
This Wedding Style is all about wild flowers, bare feet dancing, twinkling lights, tipis under the stars, clashing prints and patterns, hand-crafted touches and pure crazy, crazy love…

Top Row Left: Image via Frederikke Heiberg. Top Row Right: Image via Bryan Rupp Photography. Middle Row: Image via Renee Bowen. Bottom Row: Image via Stuart McIntyre.
A Bohemian Beats wedding will most definitely have an element of the outdoors whether that's saying I do under a woodland shade, sharing a picnic with friends in the gardens of a crumbling estate, or sleeping  your first night as husband and wife under the stars.
There are no rules when it comes to this kind of wedding style – the relaxed party atmosphere is all about your family and friends celebrating your love and life together, so leave the wedding etiquette checklist at the door and enjoy the blissful beauty of your wedding day with your nearest and dearest.
THE fashion
There is something very sexy about a Boho Bride. For some this may seem wholly inappropriate for their wedding day but I can't help but skip a little inside when I see gorgeous images of brides draped in soft vintage lace, silhouettes outlined in sheer fabrics and the rebellious sparkle of something metallic.
Top Row: Image via Sam Docker. Middle Row Left: Image via Gideon Photography. Middle Row Right: Image via Stephanie Collins Photography. Bottom Row: Image via Brigette & Julia.
Locks, whether worn up or down, have a 'just-got-out-of-bed' haphazardness…. Something I certainly try to emulate on a daily basis!
The floral crown trend has continued to grow in popularity this year and why the hell not… Just look at these examples folks. What's not to fall in love with? Any Bride is bound to feel a Boho Princess with her not-so-coiffed hairs adorned with fresh and heady scented petals.
Fancy carrying your flowers rather than wearing them? Then how about feathers, chains or even a veil as your crowning glory?
Veils are hauntingly beautiful and utterly romantic. Wear a single layer of tulle underneath your headpiece for a simple statement or a lace edged veil for a touch of drama. Either way I encourage you to embrace the veil. You won't regret it my lovelies. I long to wear one as per the image below with a beautiful be-jewelled headpiece.

Top Row Left: Image via Pinterest. Top Row Right: Image via Pinterest. Second Row Left: Image via Stephanie Williams. Second Row Right: Image via Jessica Janae Photography. Third Row Left: Image via Melissa McCrotty. Third Row Right: Image via Paula O'Hara. Bottom Row Left: Image via Bo & Luca. Bottom Row Right: Image via Amy Oliver Photography.
I am a magpie. I love the glitter. But in a totally cool way. I've even got a whole Pinterest board dedicated to this obsession.
On my own Wedding Day I had a costume change to adorn something sparkly and golden. This style almost demands such attention –  whether it's a beaded dress, sexy heels, a smudged metallic eye or something gilded for the evening. The juxtaposition between nature and fashionista is delicious.
There is an edge to this Bride. And I like it. A lot.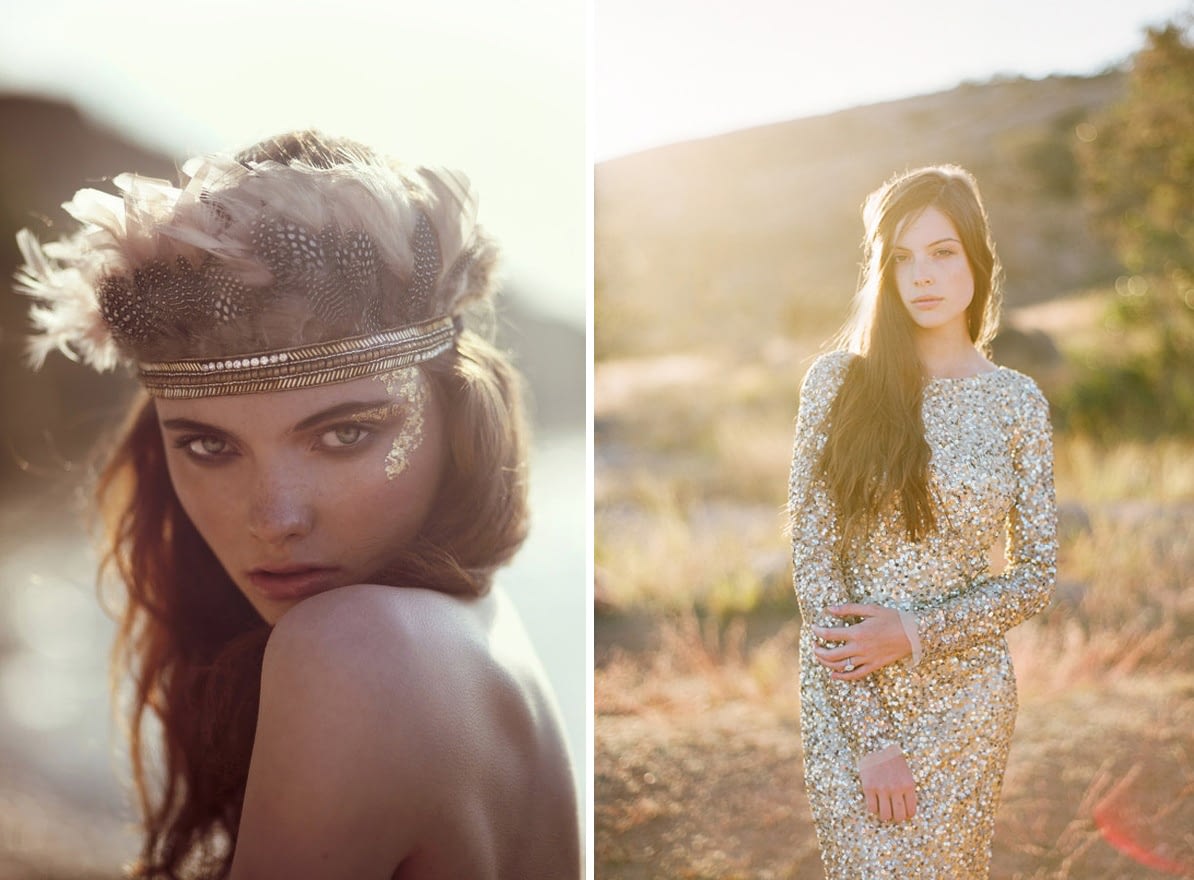 Left: Image via Sarah Louise Johnson. Right: Image via Taylor Lord.
maiden
Your best girls should follow suit, the mismatched maid is without doubt the ultimate in Gypsy Glamour fashion but a little tricky to execute well. Think florals, nudes, crowns, fishtail plaits, freshly picked daisies and you're there. Choosing an eclectic mix of attire for your maids also means that each girl can exude their own individuality and ensure their dress suits their shape and personal style. This favour will serve you well as a comfortable maid equals a happy maid and ultimately a happy bride!
I particularly like the effect of soft neutrals for Bridesmaids, chiffon, lace and silks in the palest of creams, blushes and nudes – this allows for a mixed palette yet still creating a uniformity for the bridal party.

Top Row Left: Image via Braedon Flynn. Top Row Right:  Image via  The Nichols for BHLDN. Second Row: Image via Judy Pak. Third Row: Image via Terra Rothman. Fourth Row: Image via Beck Rocchi.
men folk
If I think the Boho Bride is sexy then gosh girls what can I say about the Boho Groom… If you like your man a little rough around the edges then this is the style for you.
I urged my own Groom-to-be to skip a shave the morning of our wedding as I love the contrast of your man in his finest attire with a hint of stubble or, hell yes why not, a full on beard.
Contrasting fabrics, colours and patterns work well for this style – velvets, silks, tweeds, spots, floral prints, deep earthy tones or muted blues.
Boutonnieres should be masculine and simple with feathers, foliage and berries being the focus.
Just feast your eyes on these handsome devils for some inspiration…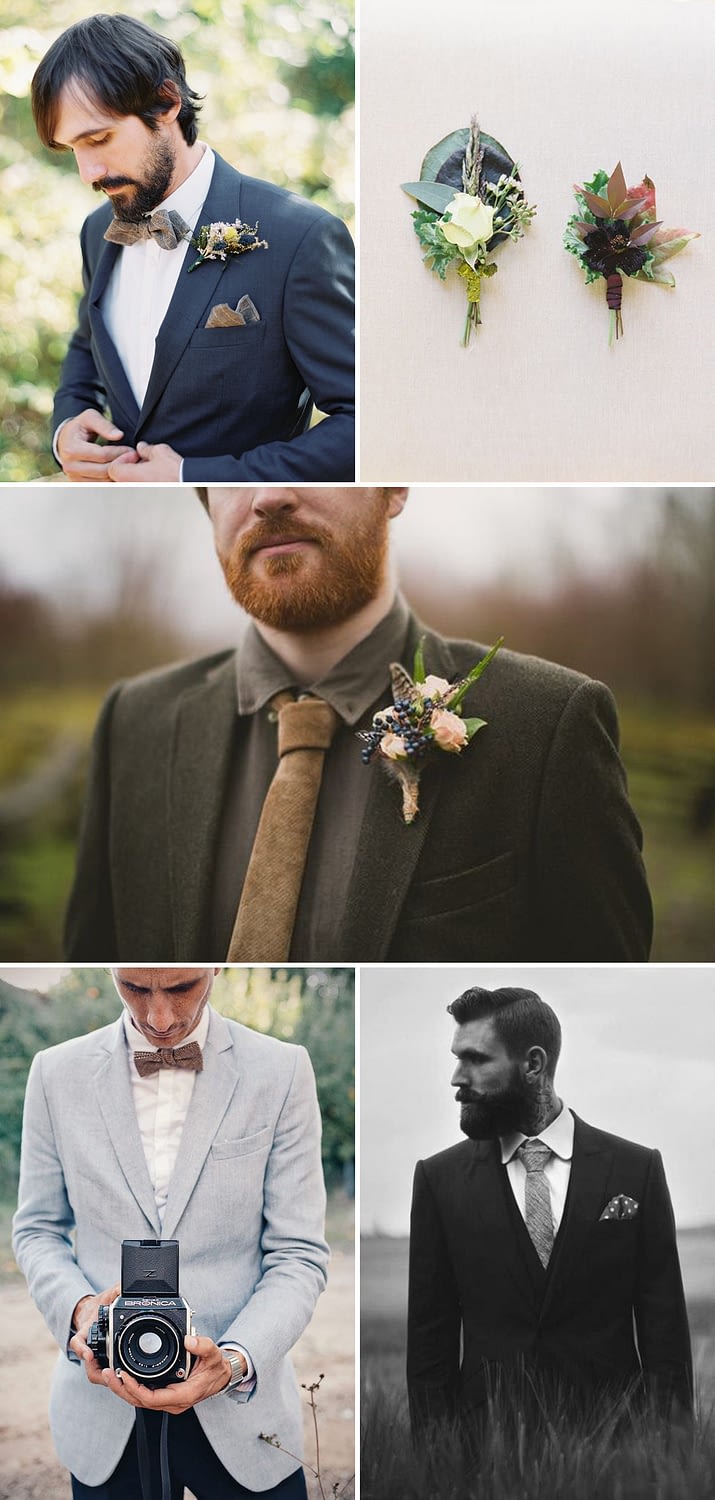 Top Row Left: Image via Brett Heidebrecht. Top Row Right: Image via Rylee Hitchner.  Middle Row: Image via Paula O'Hara. Bottom Row Left: Image via Marianne Taylor. Bottom Row Right: Image via Pinterest.
a wicked feast
The food… Think hearty, messy and altogether wicked.
The Bohemian Beats wedding is all about family and friends uniting, so what better way to feast than in large relaxed groups where platters of meats and cheeses are served, heart warming baked pies and freshly grilled fish are shared, cakes oozing with cream and fresh fruit are devoured and guests are drowned in boozy cocktails of wild berries and peachy herbs… Delicious.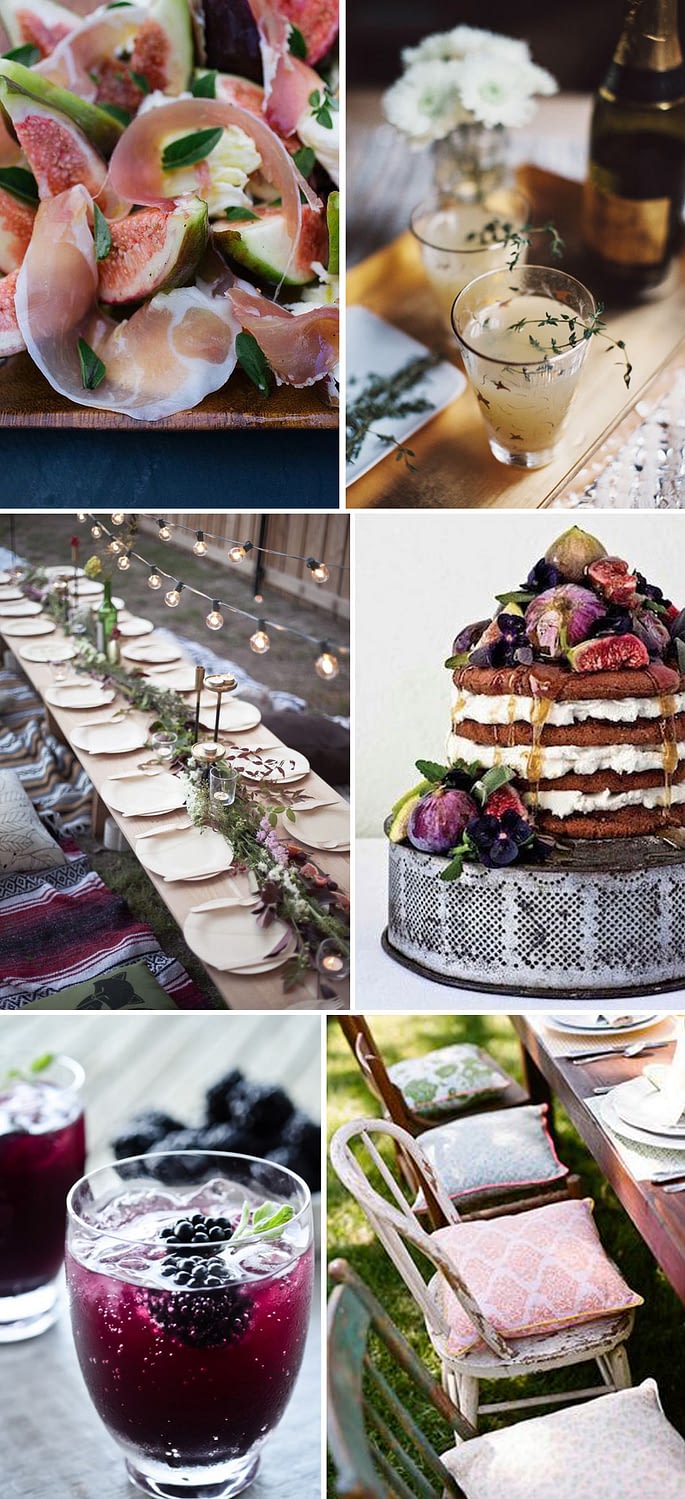 Top Row Left: Image via Simple Provisions. Top Row Right: Image via Sarah Culver. Middle Row Left: Image via Meghan Sadler. Middle Row Right: Image viaImage via Pinterest. Bottom Row Left: Image via Pinterest. Bottom Row Right: Image via Style Me Pretty.
The setting for the feasting is just as important as the food. Scatter cushions, long benches, campfire seating, drapes under trees, warm candlelight, creeping centrepieces of foliage and deeply scented florals will ensure a relaxed yet extravagant celebration.
There is a wild decadence and irreverence that should absolutely be present at any Boho shindig. This carefree nonchalance towards the conventional wedding traditions are what makes this style so very, very magical indeed.
Image via Benj Haisch.
So girls…
Are you a Bohemian Beats Bride?
How are you reflecting the Bohemian wedding style trend in your day?
Seen anything that's inspired your planning?
Oh I do hope so.
If you would like to explore my interpretation of this style a little more then skip on over to the Coco Wedding Venues Pinterest board.
I can't wait to share with you our beautiful Bohemian Beats wedding venues, but in the meantime keep up to date with all things Coco here.
Lots of love…