They had me at Spa…
"Gaia Spa, launching at Boringdon Hall in Plymouth, is the largest new spa build opening in the UK in 2016, and is the destination spa for wellbeing. Inspired by the Greek Goddess Gaia, also known as Mother Earth, Gaia Spa has the philosophy of Your Wellness, Naturally…"
Well that all sounds rather marvellous doesn't it…? I do adore a Spa Day and whenever we venture to far away lands we always make sure we check in to a spa hotel. I personally think it's rather vital to treat yourself every now and again and I certainly did when I was a Bride-to-be!
Here's some facts for you; Opening late spring, at Boringdon Hall Hotel on the edge of Dartmoor in Plymouth, Gaia Spa measures over 1800 square meters. The destination spa, expertly designed throughout, will provide the very best in relaxation, spa and wellness facilities, offering extensive spa treatments, rituals and holistic therapies, including a Gaia Spa treatment menu and Gaia Spa product range.
Diane Nettleton, Director of Gaia Spa, says:
"Gaia Spa has been inspired by nature and the need for wellbeing. Taking a natural approach to wellness and relaxation Gaia Spa offers an extensive range of spa and wellness facilities unlike any other spa in the UK and has a clear focus on wellbeing. Drawing upon extensive spa experience and with research from across the globe, Gaia Spa has been 5 years in the planning, designing and launching stage since we purchased Boringdon Hall in 2011 with the intention of building a spa. We will be extremely proud to see Gaia Spa open this spring here in Plymouth."
Gaia Spa will feature 12 dedicated treatment rooms (including two double rooms), two infinity pools including stunning Hydrotherapy pool, indoor and outdoor heated. Plus experiences will include a Finnish sauna, a crystal steam room, a salt steam room, a shower experience, Laconium, herbal sauna, Rasul and Balneotherapy suite.
Gaia Spa members will benefit from a state of the art gym with personal trainers and there will be a luxury Spatisserie offering a light and airy space for nutritious dining options. Outdoor facilities will include dedicated spaces for spa treatments, meditation and to practice Yoga as well as outdoor areas for relaxing and socialising alongside a wildflower meadow.
From pre-wedding day pampering, hen party bonding or maybe a post-wedding Mini-moon break for you and your beau this is a very special place. But folks, before you run off to book yourself in for the day (or week!) scroll down a little more and enter the competition!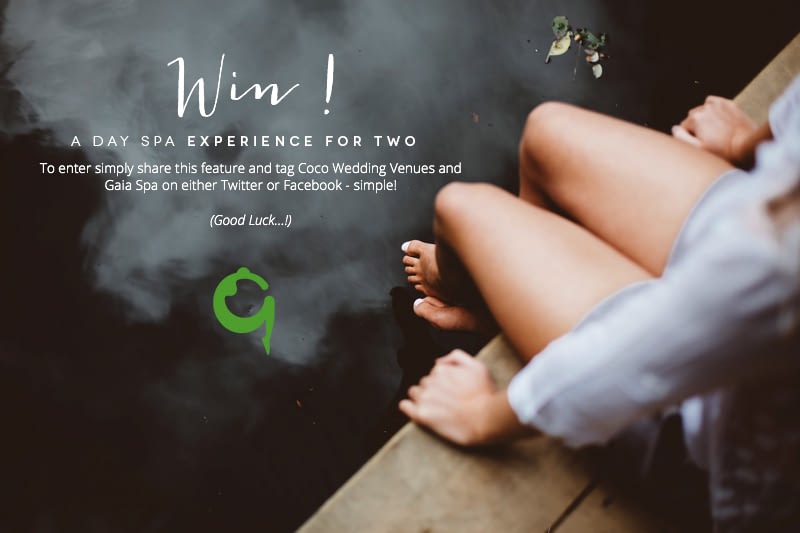 Win a day spa experience for two!
To enter simply share this feature and tag Coco Wedding Venues and Gaia Spa on either; Twitter @CocoVenues | @GaiaBoringdon or Facebook @CocoWeddingVenues | @GaiaBoringdon.
Terms & Conditions
This competition runs from 8am, 15th April 2016 until midnight, 13th May 2016. The winner will be picked by a team member at Gaia Spa one week after the competition closes.
Visit www.gaiaboringdon.co.uk for further information on Gaia Spa, treatments and exclusive Gaia Spa Membership options.
Good Luck!